Unique Gift Ideas for Your Family or Friends. Christmas, Birthday or Wedding.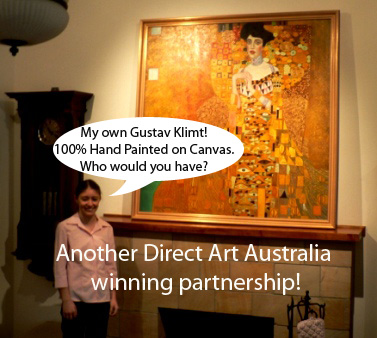 It's tough enough to figure out gift ideas to give to your friends and family, what more a unique gift ideas that no one has thought of yet. You have all kinds of ideas from personalized mugs to personalized portraits from photos that you are probably wondering who should receive which one. To save yourself from all the hassle, just think about this: Whenever you are buying a gift, you must give something that is not only of material value but of memories and special thoughts that will make it the best gift a person could ever have. It may sound vague at first, but once you get your hands on a unique gift to give to your loved ones like a painting or a portrait you'll know what we mean.

Paintings are a great unique gift idea because there are tons of paintings out there with different subjects, different messages, and made using different styles. We at Direct Art Australia know how beautiful paintings are and how lovely they look when hung on the walls of living rooms and dining areas, which is why we bring you a selection of oil canvas paintings that are sure to bring life and harmony into the room. There are many color combinations and subjects to choose from so you will not be limited at all when choosing an oil painting on canvas for your friends and family.

If you're not satisfied with just a painting, maybe a famous reproduction of a classical painting will be a much better unique present to give to him or her. These reproductions are so alike with the original that you could barely tell the difference unless you hire an expert to analyze it for you. This makes it an even better unique gift idea to give to your loved ones as it is much more affordable to buy in the market. If your dad likes Matisse or your grandma loves Monet's work, you can get them famous reproductions of their works for their birthdays or the holidays if you'd like.

Of course, if you really want something special and personalized, you should definitely order a portrait from photo. This is a unique and special gift because the portraits are taken from photos that were shot during special occasions and moments that are embedded in the recipient's memories very well. They can relate and remember with it, which makes it very special to them. Direct Art Australia offers portraits from photo services which are handled by professional sketchers and painters with years of experience.
We believe that these are only the cream of the crop when picking out unique gift ideas for your loved ones, so come on over and start shopping for artworks that will make everyone in your family and circle of friends feel happy and appreciated. Hurry because we are offering free shipping to all locations in Australia, including Melbourne, Sydney, Brisbane, Perth, and Adelaide.